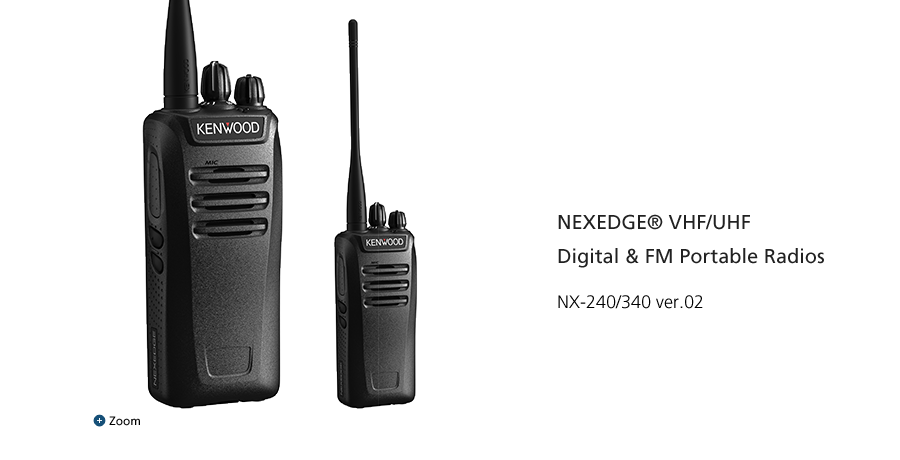 NX-240 / 340
VHF / UHF DIGITAL & FM PORTABLE RADIOS
NXDN® DIGITAL AIR INTERFACE
NEXEDGE® radios employ NXDN®, an FDMA digital air interface with AMBE+2™ voice coding technology, unique filtering and a 4-level FSK modulation technique with low bit error rate (BER) even at weak RF signal strengths.
ENHANCED AUDIO QUALITY
AMBE+2™ VOCODER technology accurately replicates natural human speech nuances for superior voice quality, even at highway speeds. Additionally, the powerful 36mm-diameter speaker delivers up to 1 watt audio output, providing undeniably clearer and crisper audio.
ULTIMATE PERFORMANCE
RF output power is 5W for both VHF (NX-240V) and UHF (NX-340U). Additionally, the UHF frequency coverage on the NX-340U is 70MHz.
GENERAL FEATURES
Multiple Scan
4 – Color LED ( Blue, Red, Green, Orange)
2 PF Keys
16 Position Mechanical Selector
Zone / Channel Number Voice Annoucement
VOX Ready
Emergency Call
Remote Stun / Kill
Lone Worker Alert (per channel)
Time Out Timer
Busy Channel Lockout
Low Battery Warning