TK-D340 & TKR-D710 / D810
TK-D340 UHF DIGITAL TRANSCEIVER
Ergonomically styled yet tough enough to comply with both MIL-STD and IP54/55 environmental standards, these portables provide the features and performance needed for a wide range of workplaces – from warehouses and stations to shops and hotels. As well as handling both analog and digital communications, these user-friendly DMR radios can even operate in direct mode, without a repeater. They also offer such KENWOOD added value as Call Interrupt and 1-watt audio output. These truly resourceful team members will enable you to make the most of your legacy analog equipment while also benefitting from digital communications.
Two-Slot TMDA
These DMR radios can operate in both digital and FM analog modes, switching automatically as needed. Interoperability with legacy analog radios allows organizations to migrate to full digital at their own pace.
Dual-slot Direct Mode
Up to two simultaneous subscriber calls can be supported in a 12.5 kHz channel, without requiring a base station or repeater, thus doubling channel capacity.
Call Interruption
In an emergency or whenever a user needs to interrupt a call, Call Interruption is available in both direct and repeater modes, while encoding or decoding. There is also a Lone Worker function to protect employees working alone.
Tough All-terrain
These portable radios conform to MIL-STD C/D/E/F/G standards for ruggedness, and are IP54/55 rated for dust & water protection, making them more than capable of withstanding harsh operating conditions.
Other Features
• Max. 32 ch in 2 zones (16 ch per zone)
• Wide 70 MHz UHF coverage
• Selectable 16-channel using channel stopper
• 5/1 W (VHF), 4/1 W (UHF) output
• Audio output power 1 W @ 12 Ω
• Scanning functions
• Password protection (read/overwrite)
• Minimum volume setting
• Embedded message
• Selective call alert LED
• Key lock
• Late entry
• Analog signalling: QT/DQT, FleetSync, 2-tone (available later)
• Compander per channel
• Squelch level
TKR-D710 / D810 VHF/UHF Digital Repeater – Tier II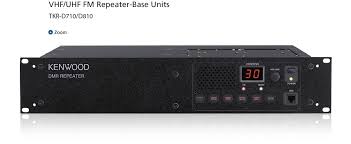 General Features
• 136 – 174 MHz, 5 – 50 W
• 400 – 470 MHz, 5 – 40 W
• Repeater Operation
• Two-Digit LED Display
• 6 Lighted Programmable Function Keys
• Programmable AUX I/O's
• RF Power Down Detect
• DTMF Front Panel PF Key Control
(Analogue Only)
• DTMF AUX Output Control
(Analogue Only)
• DTMF AUX Input Monitoring
(Analogue Only)
• Windows® PC Programming
• Flash Firmware Upgrading
Digital-Conventional Mode
• DMR Digital Air Interface
• 12.5 kHz Channels
• Mixed FM / Digital Operation
• Repeater Control Built-in
• Colour Code Repeater Control
• Conventional IP Network *1
• AMBE+2™ VOCODER
• AIS IP console interface *1 *2
• Call interruption
FM Modes – General
• VHF: 25 & 12.5 kHz Channels
• UHF: 25 & 12.5 kHz Channels
FM Conventional Mode
16 QT / DQT Repeater Control Built-in
• Hang Timer